Tips for successful HotDocs Pitch and Independent Doc Director's Lab
14 May 2012
Hilla Medalia
, a George Foster Peabody Award winning director and producer, and 3 Emmy Award nominee, is sharing with DocMovies readers some valuable information about Hotdocs Pitch Forum, and Film Independent Documentary Director's lab. Hilla was chosen to present her films to both highly prestige platforms, question is, was it worth the high financial investment?
For the past couple of years, I have been working on the production of two films, Caught In The Net and Dancing In Jaffa. The process of working on both films happened organically, as the second one began just six months after I completed shooting the first.
Through two years of hard work, I, at times, feel that we are so overwhelmingly dedicated to creating films. In times like these, I end up questioning myself. I wonder if my work is watchable, if it will be distributed, or if it will generate an audience. I am constantly working to challenge these issues though, because I have realized that's the only way to move forward in this business. To begin, I have been spending more and more time working to harness a viral presence in the hopes to find "1,000 fans" to each film I do.
Don't read from paper!!!! That's the biggest difference I could say I have felt. Also if you memorize it, that is also not working as well.
Answer short in the discussion It's Ok to move fw.  And the biggest discovery – if you 5 sec over, no one will cut you. They will tell you but you could finish your thought.
This month marked the beginning of what I could have only hoped would ever happen, and it all happened at once. Dancing in Jaffa was selected to participate in Film Independent Documentary Directors Lab; Caught In The Net was chosen for the Hot Docs Forum in Toronto; and at the end of May, Dancing in Jaffa will participate in The Good Pitch in NY.
Always when a new person comes on board, we receive a grant, or we find another partner, it's very exciting (and probably even more so during post-production when I am buried under massive amounts of footage).
That said, this month has been a very thrilling one. In anticipation of these upcoming events, I have found myself trying to figure out the process, and the best approach to prepare for all of them. I am writing this blog to share these different experiences in the hopes that other filmmakers will find answers to my own similar questions.
Film Independent Documentary Director's Lab.
The Film Independent program
runs in Los Angeles for 8 weeks, and I really had no idea of what to expect before going to the Director's Lab. I was surprised to find that the program is specifically designed to give directors the opportunity meet each other for labs 2-3 times a week, while also allowing the freedom to pursue our other obligations and responsibilities.
Right from the beginning I was faced with the dilemma of having to practically move to LA for two months. After already balancing my time between New York, Amsterdam and Israel, spending eight weeks in LA was, needless to say, the furthest thing from convenient. Luckily, Film Independent was gracious enough to allow me the opportunity to take part in the lab even though I could only be a participant for about half of the time.
In hindsight, I think there are a few things in particular this lab does a great job in doing for its participating filmmakers, such as offering creative feedback, story notes, and strategizing the completion, distribution, and marketing of their films. The program also works to advance the careers of the "Labbers" by introducing us to film professionals provide advice for both the craft and business. Another amazing opportunity Film Independent afforded its participants was one-on-one meetings with established directors, producers, editors, and other industry professionals.
Lastly, and most importantly, is the feeling of community between the participating filmmakers. Through mutual involvement in each other's projects, everyone ends up forming a special familial bond and helping each other.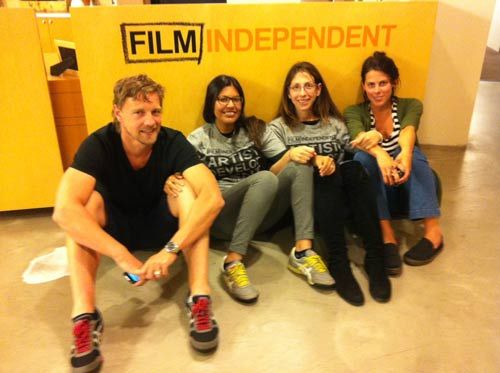 The films and filmmakers in this year's Lab were:

American Revolutionary, directed by Grace Lee
Billy Mize & the Bakersfield Sound, directed by William Saunders
Boone, directed and produced by Christopher LaMarca and produced by Katrina Taylor
Cocaine Prison, directed by Violeta Ayala and produced by Daniel Fallshaw
Dancing in Jaffa, directed by Hilla Medalia
Gore Vidal's America, directed by Nicholas Wrathall
Journey into Africa, directed by Redelia Shaw
Now en Espanol, Directed by Andrea Meller

Daniel Fallshaw, Violeta Ayala, Katrina Taylor, Hilla Medalia
On the evenings in which we watched films or viewed presentations on films other than our own, we worked with a wide range of very impressive mentors. Some of the mentors of this year's lab were Laura Gabbert (No Impact Man), Caroline Libresco (Sunset Story), Eddie Schmidt (Troubadors), and Doug Blush (Wordplay, I.O.U.S.A, Freakonomics, editor). Kirby Dick and Rory Kennedy also shared their newest films.
For those entering the program, I highly recommend you already have a rough cut.  As long as you are able to see and show a decent sized portion of the film at the Lab, you will be accepted. The Lab accepts projects at the rough-cut stage, as well as projects at more of an assembly stage, because it is difficult to workshop the narrative of a film from just 30 minutes of selects it is better to come with a rough cut.
The group is very diverse, so the feedback comes from a variety of peers instead of people that are closely tied to you and the project. This will help you discover what will resonate with a potential audience and how your message is being conveyed. If you don't have a rough cut you must do your "homework" otherwise you will learn from the other filmmakers' workshops instead of your own film. The most important thing to be aware of is what material will allow your mentors and the other filmmakers to workshop your overall film to the fullest.
Overall it was an incredibly interesting and fulfilling experience. I definitely recommend this opportunity to every filmmaker, but mostly for first and second time filmmakers in particular. I strongly believe these eight weeks will provide you with knowledge you had hoped to learn in film school.
I did a lot of planning before going to the Hot Docs Forum – mostly in preparation for the actual pitch itself. We only have 7 minutes to pitch the project , which must include a 3 min trailer and 4 minutes of talking.
"Another word of advice is to not read from a piece of paper. It will make a huge difference. Memorizing the text won't really work either. During the discussion with broadcasters, also make sure to provide short and concise answers."
In terms of trailers, I would say the best are the ones that give a feel of the entire story or at least the development of a character over the course of the film.
The talking portion ended up being a little more difficult . We had a tough time figuring out who should talk and what each person should say. I think that it is essential to sell the team first, which we could have done much better. Ideally one of the financiers should be in charge of this, discussing how wonderful the team is, then the filmmakers should actually pitch it.
Another word of advice is to not read from a piece of paper. It will make a huge difference. Memorizing the text won't really work either. During the discussion with broadcasters, also make sure to provide short and concise answers. On top of that, one of my biggest realizations was that if you go over your time by 5 seconds, you will not be cut off. You will be informed of the time limit but still allowed to finish your thought.
Apart from the creative side, the financial aspect of Hot Docs is also worth discussing. Ultimately, while the experience is invaluable for filmmakers, it is very expensive to travel to Canada and then buy the actual pass to the forum. We did get amazing results I have to say. Even though no deal has been finalize yet (hopefully it will soon). Also, just watching the pitches and some of the thoughts of the commisional editors were incredibly important. It can add up to over $3,000 to attend but it is most certainly worth it. That said, Eli Brown, a New York based documentary filmmaker, wrote a summary for every single pitch and agreed to post here. I think it will prove to be very enlightening.
TrackBack URI for this entry
Comments
(0)
Write comment